TRAVIS SHINN:FINGER IN FAME
May 24- June 29, 2008

2121 San Fernando Road Suite 3
Los Angeles, CA 90065
Tel 323.223.6867
drkrmgallery@gmail.com
Tue-Sat 11-5 Sun 1-4

Gallery Information
Gallery Map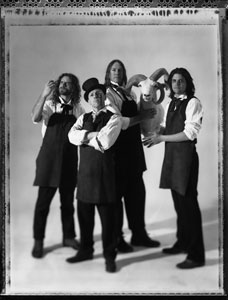 TRAVIS SHINN Tool
20x24 Silver Gelatin Print
Limited to an edition of 10

Opening reception for the artist:
Saturday, May 24, from 7 to 11 pm
Closing Reception
Saturday, June 21, from 7 to 11 pm

drkrm is pleased to present Finger in Fame, the fine art music photography of Travis Shinn. This exhibition is a photographic journey through the contemporary Rock, Hip-Hop and Rap scene that documents the larger-than-life legends that comprise the visual album of today's music.

Born in the brooding Southern California desert, Travis Shinn's photographic career began when he photographed the Grand Canyon with his first camera at the tender age of six. In between stealing his parents' cars and the occasional stint in juvie, where he had his finger in fame by thirteen, Travis learned photography from his stepmother, who was the editor of Photographic Magazine. He studied photography and painting at the Los Angeles High School for the Arts and the San Francisco Art Institute. When asked what he likes most about taking photos, he replies, "Meeting new people." Travis' work reflects this honesty and genuine interest in his subject.

Travis Shinn has shot covers, editorial and fashion for such magazines as Scratch, Alternative Press, Rides, Blender, Stuff, Guitar World and King. He created the artwork for Tool's Grammy winning album 10,000 Days. He has had the pleasure of working with an array of legendary groups and musicians such as Dave Navarro, Tom Morello, Slash, Megadeth, The Misfits, Marilyn Manson, System of a Down, Megadeth, Korn, Zakk Wylde, Snoop Dogg, Wu-Tang Clan, Nas and 50 Cent just to mention a few. All these and more are represented in this exhibition.