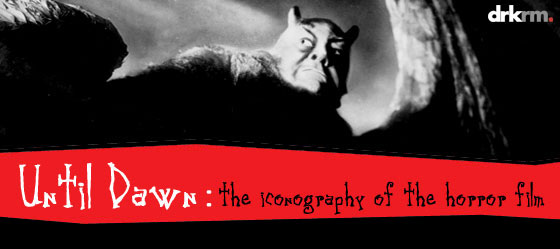 PHOTOGRAPHS FROM THE DEL VALLE ARCHIVES

Click here to view exhibition

Within the dream palace of the cinema there exists an underworld filled with all the potent images
of the unconscious. This landscape of the mind seems to require a constant yearning for the fantastic. Since cinema is bound to follow popular taste to a great degree being the product of an industry it cannot help but reflect the collective unconscious of pop culture it represents

From the birth of the movies where photographs began to move immortalized by the celluloid in light, a Pandora's box of fantasy and horror spilled onto the psychic hinterland. It is then with the images in Until Dawn that we can gaze with fascination at the films of the fantastic that transcends the superficial limitations of genre headings or aesthetic theory.
"Until Dawn" was the phrase spoken by Dr. Caligari in that landmark film The Cabinet of Dr. Caligari to describe how much time the heroine had to live. Most all of the images are from that early period of filmmaking like Haxan-Witchcraft Through the Ages, Nosferatu and The Magician directed by the great Rex Ingram with the first Mad Laboratory on film, years before Frankenstein. The exhibit will also include rare and unforgettable images from films such as The Golem, F.W. Murnau's Faust, Puritan Passions and Carl Dreyer's Vampyre. Not to mention photographs from early Germanic versions of Dorian Gray as well as Jekyll and Hyde. These images illustrate the inspiration of these early "terror films" on the contemporary Hollywood horror/monster movie and have become, over the years, icons for our innermost childhood fears. The majority of these images have never been presented before in any form and all photographs are available for sale to the public.

David Del Valle, an avid collector of photographs for the last twenty-five years has achieved national recognition as a journalist, columnist, film historian, radio and television commentator and is one of the leading authorities on the horror/science-fiction/cult and fantasy film genres. The Del Valle Archives is an in-progress collection of thousands of still photographs, artwork and ephemera dealing with the horror/fantasy/sci-fi and cult genres.
David's monthly column "Camp David" can be found at the Films in Review website.


drkrm. gallery
2121 N. San Fernando Road, Suite 3, Los Angeles CA 90065
323-223-6867 email: drkrm@mac.com web: www.drkrm.com
Gallery Hours: Tuesday-Saturday 11am-5pm