When Neville Garrick returned to his native Kingston in 1973, after earning a Graphic Arts degree from UCLA, he began working as the art director at the Jamaica Daily News. One of his earliest assignments was to cover a Marvin Gaye concert at the Carib Theater in Kingston. The Wailers were the opening act and stole the show. Garrick met Marley at a post-show press party and soon the two became close friends. Garrick, eventually left the newspaper after Marley put it to him directly: "Why don't you come work for Rasta?"

Garrick joined Marley in his crusade, touring with the Wailers and concentrating his talents on the visual side of things. He started by designing labels for Tuff Gong Records and eventually went on to design many of the Bob Marley and the Wailers album covers including Rastaman Vibration and Exodus. He became responsible for the backdrops and lighting for live shows, even joining in on percussion when the opportunity arose. The close friendship endured to the end. After Bob's passing, Garrick became more and more involved in preserving the Marley legacy. He designed a new addition to the Bob Marley Museum at 56 Hope Road in Kingston and served as executive director of the Bob Marley Foundation until 1996.
On August 6, 2005, in a ceremony marking Jamaica's 43rd year of independence from Britain, Neville Garrick received the Prime Minister's Award for Excellence in honor of his contribution to Jamaican music. In addition to being a photographer, graphic artist and filmmaker, Neville is author of the book A RASTA'S PILGRIMAGE: Ethiopian Faces and Places, a Pan-African travelog and stunning meditation on the beauty and connections of Africans throughout the world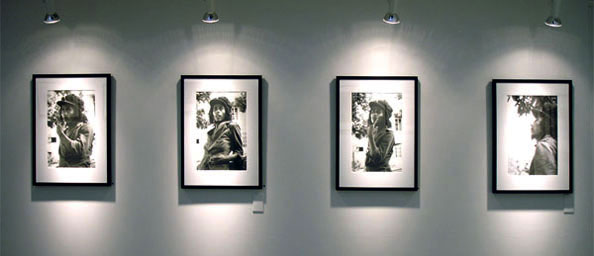 Robert Nesta Marley, better known as Bob Marley, was a Jamaican singer, guitarist, songwriter and activist. He is the most widely known Reggae musician of all time, famous for popularizing the genre outside of Jamaica. Much of his work deals with the struggles of the impoverished and/or powerless. Bob Marley is also renowned for the way in which he spread faith through his music.
Bob Marley's music and legend have gone from strength to strength in the years since his early death in 1981, whilst also bringing him a nearly mythic status in music history. He remains enormously popular and well known all over the world, and particularly so in Africa. In 1993, Marley was inducted into the Rock and Roll Hall of Fame. Time magazine chose Marley and the Wailers' album "Exodus" as the greatest album of the 20th century.



The photographs in this exhibition document the heyday of Bob Marley's career, including the famous Rastaman Vibration photos from 1974, a music festival at New York's Central Park in 1975 to Marley's visit to Zimbabwe for the Independence Celebration in 1980.

drkrm. gallery
2121 N. San Fernando Road #3 Los Angeles 90065
323-223-6867
E-mail: drkrm@mac.com
Gallery/Lab Hours: Tuesday-Saturday 11am-5pm