Hustlers, Selma Avenue, Hollywood 1971
11x14 Vintage Silver-gelatin print
drkrm.gallery is pleased to announce the exhibition of Anthony Friedkin's Gay, A Photographic Essay 1969 - 1972 in commemoration of the 40th Anniversary of the Stonewall Riot and Gay Pride month. The exhibit will be on view at the drkrm. gallery from June 20th to August 2nd, 2009. There will be a reception honoring the photographer on Saturday June 20 from 7-10pm.

This retrospective exhibition of photographs about the Gay community revisits work done by celebrated Los Angeles based photographer Anthony Friedkin. This powerful and important set of vintage photographs, over 35 years old, historically documents what was then the emerging identity of the homosexual community, and the beginnings of the Gay Liberation Movement. First displayed in a Los Angeles exhibit in 1973 and later again in 1994 it's been over fifteen years since these unique and beautifully printed vintage photographs have been on view.
In 1969 when he was still a student, Friedkin embarked on The Gay Essay. A series of pictures made in Los Angeles and San Francisco that is the first extensive record of the Gay communities in these cities. This work is an early example of the influence of Diane Arbus outside NY, examining as it does the underbelly of a vibrant and yet marginalized community. The Gay Essay functions as a time capsule and a valuable historic record of a fiercely proud community struggling for acceptance and integration.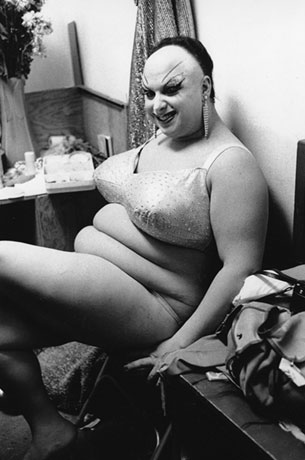 Divine, Palace Theatre, San Francisco 1972
11x14 Vintage Silver-gelatin print

The essay shows Gay men and women both proudly and intensely living an openly Gay lifestyle. "They were defining their sense of freedom and individuality," says Friedkin, who choose at the time to portray Gay people who refused to conform to society's values. "I wanted to depict their struggles, humiliations, and their triumphs."

The images in the exhibit depict a wide-ranging composite of gay life: young hustlers, drag queens, transsexuals, San Francisco entertainers; a Gay Liberation parade in Hollywood; two lesbian women very much in love; effeminate boys growing up in an environment of machismo and the religious subculture typical of East Los Angeles. Also included are portraits of of Gay activists Morris Kight and Don Kilhefner, Troy Perry, a Gay cleric, standing among the burned-down remains of his downtown church after a suspected arson fire. A reviewer from San Francisco's Artweek said of Friedkin's original 1973 exhibit: "The Gay Essay is comparable in magnitude to Robert Frank's 'The Americans'...the exhibit in its entirety is amazingly strong. And for the most part the photographs are singularly beautiful in execution."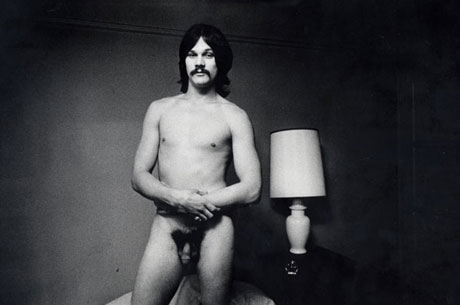 Dan, Male prostitute, San Fernando Valley,1972
11x14 Vintage Silver-gelatin print

The essay was published in Europe long before it was published in the United States, due to the American media's reluctance to deal with the images of a sensitive nature and the homosexual issue in general. Re-exhibiting The Gay Essay today close to forty years after it came into existence, powerfully illustrates and preserves a crucial period in the Gay community's history.

A native of Los Angeles, Anthony Friedkin began photographing as a child. He started working in the darkroom at age eleven, processing and printing his own images. Since that time, which was in the early 1960's, he has accomplished a significant body of work. His photographs are included in major Museum collections: New York's Museum of Modern Art, The J. Paul Getty Museum and others. He is represented in numerous private collections as well. His work has been exhibited world wide and has been published in Rolling Stone, Zoom, Time, Newsweek. and many others.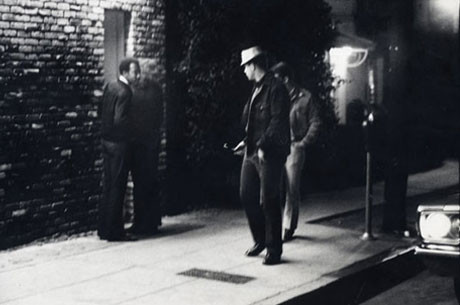 Vice Police interrogating two men, Hollywood, 1972
11x14 Vintage Silver-gelatin print

Friedkin uses his camera as a means of personal discovery. His full frame black & white photographs explore the many mysteries of moments in time. He creates his own distinctive exhibition prints in his darkroom. He says of his work, "I believe in extraordinary photographs that draw you in and cannot be easily defined-celebrating perception and its many hidden layers of reality."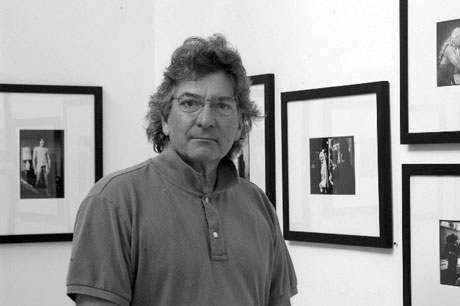 Anthony Friedkin

Informed by the works of Atget, Kertesz, and Josef Koudelka, Friedkin moves gracefully among disparate worlds--from surrealistic sets of Hollywood to the shores of the tempestuous Pacific Ocean. Julian Cox, from the Department of Photographs at the J. Paul Getty Museum, writing in the introduction of Friedkin's photographic Art book Timekeeper, said, "He captures and creates beauty for its own sake, but he also chases life's more elusive mysteries, The best of his pictures are outre, edgy fragments of life, emitting sparks of electricity that increase in wattage the more closely we examine what's there."
Click here to read review




drkrm, in cooperation with the Steven Cohen Gallery is proud to present this historic and groundbreaking body of work.