Freestyle Exposed V:  Unconventionally Traditional!
The Fifth Annual Freestyle Employee Exhibition of Fine-Art Photography

August 4 through August 25, 2012.
Opening Reception: Saturday, August 4 at 7:00 PM
Freestyle Photographic Supplies, Freestyle's Creative Center for Photography and drkrm are proud to announce the opening of an exclusive group show: Freestyle Exposed V:  Unconventionally Traditional.

Dedicated to the 150 year old art form using film and traditional products, Freestyle Employees demonstrate the importance of analog in the creation of contemporary works.   They exhibit their passion and enthusiasm for photography with images created using cameras and processes old, new and revived.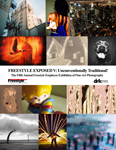 Freestyle Exposed V:  Unconventionally Traditional!
Catalog available here
Read the review in

Established in 1946, Freestyle Photographic Supplies is a leading international retail, mail order and internet provider of photographic supplies and equipment nationwide, as well as the exclusive United States distributor of Adox films and papers, Cachet archival storage boxes, Efke black and white films, Foma black and white photographic papers and films, Fotospeed specialty chemicals, Holga cameras and accessories, LegacyPro accessories, Rollei black and white films, Slavich black and white specialty papers and Varycon/EMAKS black and white papers.





drkrm is an exhibition space dedicated to the display of popular cultural images, fine art photography, documentary and photo journalism, cutting edge and alternative photographic processes. In addition, drkrm is a full-service black & white photo lab. drkrm is located at 727 S. Spring Street in the Gallery Row district of Downtown Los Angeles. Regular hours are Wednesday-Saturday 12-6, Sunday 12-4 and by appointment.

home