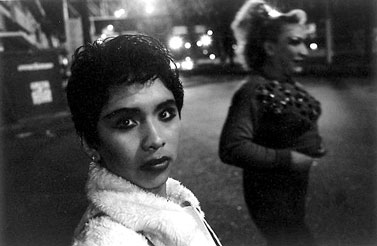 Joseph Rodríguez
Flesh Life: Sex in Mexico City

drkrm.gallery is pleased to announce the first Los Angeles exhibition of Flesh Life: Sex in Mexico City, the work of New York-based photographer Joseph Rodríguez. The show is comprised of twenty-five 11x14 black and white photographs and runs from February 14 through March 15, 2009, with an opening reception on Saturday evening, February 14, from 7-10 p.m.
From Nezahualcoyotl, the largest working-class suburb on earth, to La Condesa, Mexico City's hipster hangout, putas and putos stroll the streets, cruising for johns and surviving on their wit, born out of true desperation. These men, women, and everyone in-between are sex-workers in a country where extra-marital sex is considered a mortal sin, and, confoundingly, where they ply their trade without official reprisal. In Mexico, macho husbands consort with other men, and virgencitas are anything but.

Joseph Rodríguez confronts these contradictions head-on in Flesh Life: Sex in Mexico City. In Rodríguez's series of startlingly intimate black-and-white photographs we encounter a re-sexualized and re-spiritualized country in flux, embracing religious dogma while discarding taboos that once shrouded sex in a haze of artifice, euphemism, and history. Rodríguez's beautiful and brutally honest images suggest a culture in which spirit and flesh have always been inextricably intertwined.
"Spirit, flesh: in the end the same quest, born of a crumbling economy and identity. The single most apparent sign is the proliferation in prostitution, an 'outing' of what has always existed, but furtively. The government has officially admitted that it is impossible to rein in the sex trade; Mexico City is not busy busting working women and men, but formulating legal and health guidelines for sex-workers."

"Mexico loves to fuck, in a Catholic way. It suffers its fucking so much (¡pecado mortal!), that its pain becomes an inverted delight. We pick the forbidden fruit, we cum, we realize the sin, we confess, we are given absolution, we pick it again. Psychologists, feminists and the French can complain all they want, but the fact is that it is precisely the fact that we've contradicted our desire that has made it so, well, sexy."

-- from the introduction to the book Flesh Life: Sex in Mexico City by Rubén Martínez Los Angeles based writer and Loyola Marymount University professor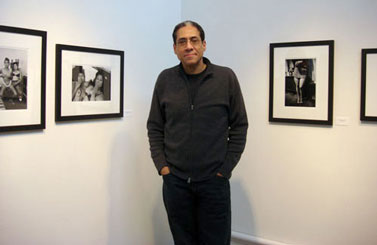 Internationally recognized photographer
Joseph Rodríguez
was born and raised in Brooklyn, New York. His work has appeared in such publications as
The New York Times Magazine, National Geographic, GQ, Newsweek, Esquire, and Der Spiegel.
He has received awards and grants from the
Open Society Institute, National Endowment for the Arts, Rockefeller Foundation, and New York State Foundation for the Arts.
He was awarded
Picture of the Year by the National Press Photographers Association
in 1990, 1992, 1996, and 2002. His work has been widely exhibited, domestically and internationally. Rodríguez teaches at
New York University
and the
International Center of Photography.
Joseph Rodríguez website

Spirit and Flesh - Mexico's Sexual Revolution

On display concurrently in the Project Room::
Philip Fagan
The Business of Pleasure : New York City Brothels

Of his many life journeys, from India to Afghanistan, it was Philip Fagan's stint working for a chain of New York City brothels in the 1980's and early 1990's that provided him with the unique opportunity to visually document a hidden taboo of American life.

"Powerful photographs can change our perceptions and bring us into worlds most of us would never venture into. Fagan's photographs about the brothels speak for themselves. His photographs record an existence most people will never understand or be eye witnesses to. These are real women, with real stories and real lives. Not only are many of Phillip's photographs elegantly seen, and reveal deeper truths about the world of prostitution but they are as much about him as they are about the women he choose to work with, defend and honor in his pictures.
-- Anthony Friedkin, from the introduction to the book Business of Pleasure: NYC Brothels
Fagan spent eleven years on Manhattan's East side in "the business of pleasure." His extraordinarily rare access enabled him to befriend and photograph many of the women who earned their living in the sex trade. "I did not photograph the girls as an essay, or as an exploitive study of girls in a lowly profession," Fagan explains. "I photographed the girls because I spent all my time, almost 24-7, with them."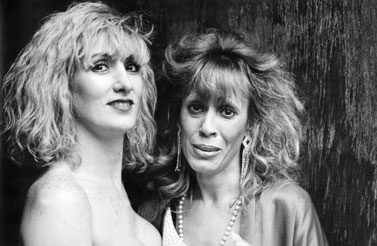 Swing Shift 513 3rd Ave., NYC c.1987

This reprise exhibition of stark, gritty and suprisingly touching images reveals the everyday world of working girls. Rarely does Fagan's camera intrude; it is merely a voyeur, a welcome partner. These candid and straight forward portraits are reminescent of Diane Arbus' pictures of people on the fringes of society combined with Ernest J. Bellocq's Storyville Photographs taken in the Red Light District of New Orleans in the 1900's.
click here for video slideshow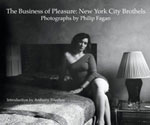 The Business of Pleasure: New York City Brothels
Photographs by Philip Fagan
Introduction by Anthony Friedkin
Softcover 10x8 inches, Perfect-bound 80 pages
Signed $40 (pre-order)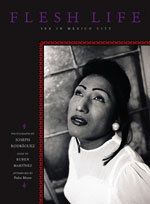 Flesh Life: Sex in Mexico City
Photographs by Joseph Rodríguez
Introduction by Rubén Martinez
Hardcover 7.5 x 10.25 inches, 96 pages
Limited number of signed copies available

SOLD OUT